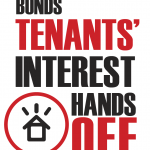 The State government has responded to questions about the withdrawal of tenancy advice funding in a variety of ways since last year.  The following outlines why these responses fail to negate the need to have independent tenant advice services in Queensland.
It's a good program but we can't afford it
$45M in interest was generated on tenants bonds last financial year while they were held in trust by the government authority – the program is not a drain on taxpayers, it is self-funded.
The entire statewide program of tenancy advice could be run at the level it was prior to funding withdrawal on less than 15% of the interest generated last year, i.e. less than $7M per year.
Increased numbers of people are entering and remaining in the private rental sector for longer periods of time.  The value of tenant bonds, and the interest generated, is increasing every year.  As a community, we are better able, not less able, to support an independent tenancy advice service with this interest.
Withdrawing support for tenants to understand their rights and responsibilities is likely to cost the government in the long run as people will fall out of the private rental sector  and increase demand for social housing and homelessness services
It's a duplication of what the Residential Tenancies Authority (RTA) does
The role of the RTA requires them to be impartial, they do not give advice or advocate for any party to a tenancy agreement.
The average call to the RTA information service takes less than 5 minutes.  The average call to a tenant advice service is 54 minutes because they go into the specific details of the client's situation and provide advice not simply information.
Tenant advice services will increase the level of support and see clients face to face when required.  Staff at the RTA are unable to do this.  In the last year of state funding, tenant advice services provided 24,000 hours of representation for Queensland tenants to their landlords, real estate agents or in the tenancy tribunal.  The RTA do not do this.
The Qld Commission of Audit said the government shouldn't provide a service unless there is no other efficient alternative.  The decision to expand a centralised government service at the expense of outsourced community-based services contradicts this.
The government said it would retain front line services.  Tenant advice services are front line services – they are available in local communities across the state rather than the central Brisbane location of the government authority.
Community Legal Centres (CLCs) can pick up any unmet need when tenant advice services are no longer available
There is a lot of research about the overwhelming demand for CLC services both in Queensland and nationally, they simply do not have the capacity to meet the needs of a new client group. Continue reading