This is how it worked before the Newman State government withdrew funding in October 2012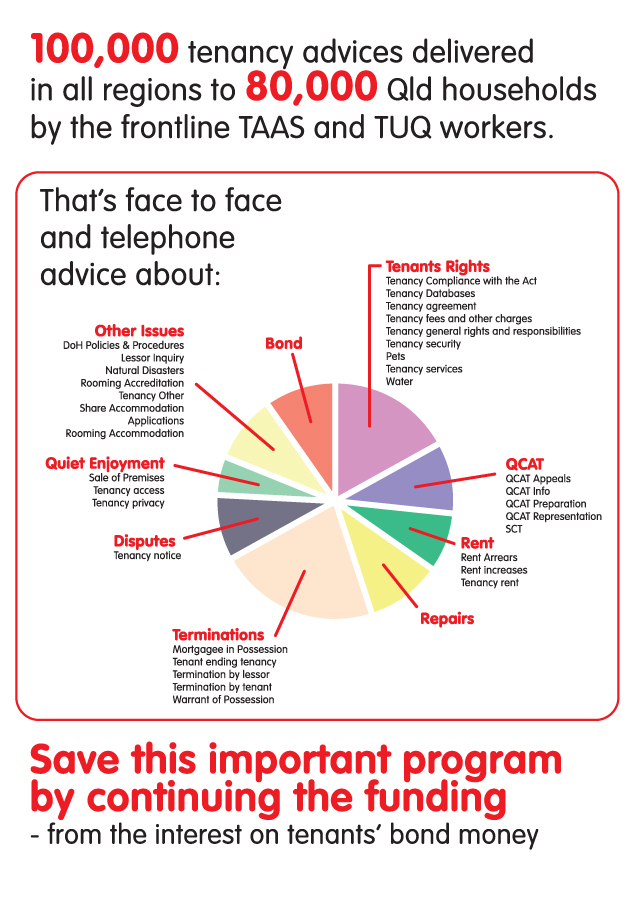 Free tenancy advice for tenants is available through 23 community based services across the state. These services were funded through the Tenant Advice and Advocacy Services (TAAS) program (and often referred to as TAAS services).
On July 24 the then Housing Minister Bruce Flegg announced that funding for the TAAS program would cease and gave services 3 months' notice to close with funding running out on October 31.
On October 3, the Commonwealth government announced one off emergency funding for services funded through the TAAS program, taking them through to June 30, 2013.
The Tenants' Union of Queensland (TUQ) is also funded under the TAAS program.
There is no funded specialist tenant advocate in the tenancy law and social housing policy reviews currently underway.  Funding to the TUQ to represent tenants' interests was also withdrawn as of December 31, 2012. 
Together the TUQ and local tenant advice services provide telephone advice or face to face assistance to around 80,000 renting households each year.
The Tenants' Union of Queensland provides a statewide advice service for tenants and also provides training, resources and back up support for local/regional tenant advice workers.
Local tenant advice services provide both telephone advice and face to face assistance for tenants in their region. They also advocate on behalf of tenants with the landlords and agents and assist tenants to write letters, fill in forms and attend tribunal hearings.
TUQ operates a statewide service with offices located in Brisbane (Statewide), Cairns (NQ regional) and a local tenant advice service in the Fraser Coast.
There are 9 independent tenant advice offices located in the greater Brisbane area; at New Farm, West End, Acacia Ridge, Zillmere, Wynnum, Woodridge, Morayfield and Ipswich.
Sixteen independent regional tenant advice offices are located Gold Coast (Palm Beach), Toowoomba, Roma, Sunshine Coast (Nambour), Gympie, Bundaberg, Gladstone, Whitsunday, Rockhampton, Mackay, Townsville, Mt Isa, Cairns, and Atherton.
CAMRA, located in Fortitude Valley, provides a statewide advice service for caravan park tenants, and is the only Queensland advice service that also assists residents in manufactured homes (mobile homes).
In the 2011/12 year, while providing 7,500 advices, the TUQ identified 1 in 7 clients to be at risk of homelessness.