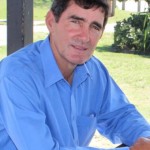 Today newly re-elected Independent MP for Nicklin, Mr Peter Wellington, has said he will support the Labor party to form government. Queensland Labor has committed to providing Queensland renters with access to independent tenancy advice. See the extract below from the ABC news website or read the whole article here.
Queensland election 2015: Independent Peter Wellington backs Labor in forming government
By Matt Eaton
Independent MP Peter Wellington has announced he will support Labor in forming a minority government in Queensland.
His decision comes as the outcome of last Saturday's election remains in the balance, with Labor still at least two seats short of an outright majority.