Housing Minister Tim Mander has announced he will crack down on public housing tenants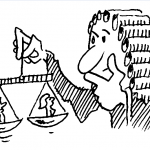 who are away from their rental home for more than 3 months.
The Minister's press release implied public housing tenants who took leave from their rental properties were taking unjustified holiday breaks "Obviously, the current situation is absurd and needs to be changed," he said.
The Queensland government is the largest landlord in Queensland and manages 51,705 rental properties. The Minister's figures revealed that 285 tenants successfully sought permission to be away from their property for between 3 and 12 months last year.
To take a leave of absence Tenants must have a valid reason and apply to the Department for permission.
Public housing tenants may take leave from their properties for many reasons, including caring for family members, extended hospital treatments, rehabilitation, or short periods of imprisonment. Any implication that many public housing tenants are taking unjustified extended overseas holidays is clearly misleading.
All tenant absences must be approved by the Department of Housing in accordance with their policy guidelines.The Ministers' statement discredits those tenants who have followed the rules and been granted permission to be absent from their rental properties. These approvals represent just .005 % of public housing tenancies.
We agree that public housing is a scarce resource and we need to make sure it is going to those who need it most. However with a portfolio of 51,000 properties the Minister's attack on 285 approved absences seems misdirected.
In seeking to solve an apparent policy problem the Minister's comments do great harm to his public housing portfolio. The Housing Minister Tim Mander has responsibility for providing government subsidised housing for the most impoverished and disadvantaged renters. It is concern that such comments denigrate public housing tenants, the policies and hard-working staff who manage public housing every day.
The state government houses 51,700 household's but public housing is a tiny part of the rental market. In Queensland government relies on the private rental market to house 10 times this number, over 500,000 households. In all 33% of Queenslanders live in rental housing.
We think it is much more important for the Housing Minister to address the need for tenant support services. Next year 80,000 households will miss out on access to tenant advice services due to government funding cuts.
Tenant advice services provide critical support for tenants to understand their rights, resolve disputes, and ensure the balanced operation of the rental market.
It is time the Minister addressed these issues and agreed to provide funding for tenant advice services in Queensland