News from Holdfast Bay, South Australia and reprinted from news.com.au – we think this might be a story to watch!  Read directly from here.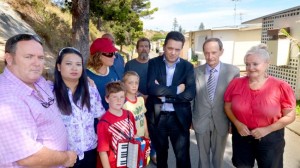 Sen Xenophon also plans to arrange for one of Australia's leading voices on social justice, Tim Costello, to headline a public meeting later this month to help raise money for a residents' fighting fund.
"I've retained the services of a legal counsel to give advice to the residents," Sen Xenophon told the Guardian Messenger.
"A legal team is being assembled to represent the residents, with a view to have legal proceedings issued on their behalf against the council."
He said he had been advised by a barrister that the residents could pursue a civil action in the District Court.Senator Xenophon said residents had produced evidence that led them to believe permanent tenants would always be accommodated at the park despite them signing yearly leases. Those representations encouraged tenants to invest their entire savings, in some cases up to $120,000, to purchase homes at the park and make improvements, he said.
The council is planning a $3 million revamp of the seafront park, adding up to 20 cabins, 12 eco-style tents, a leisure area and an upgraded kiosk. The redevelopment plan includes new up-market cabins on the site where the residents live.Residents were offered week-by-week leases last month after their yearly leases expired on June 30.
Sen Xenophon has urged Holdfast Bay councillors to reconsider their decision to refuse mediation with the residents, to avoid costly legal action that would hit its ratepayers. "They ought to undertake mediation before legal proceedings commence to try and avoid costs," Sen Xenophon said.
Elected members last month refused his request to enter into mediation, telling him it would only be considered once legal proceedings were issued.
"I also plan to make representations to Local Government Minister Gail Gago, for her to intervene and force the council to sit down with the residents before legal costs blow out of control."
Tenants committee member Marilyn Pearson said she was "heartened" by Sen Xenophon's offer. "This is the last thing we want to do but having that offer there it at least gives us some hope," she said.
Holdfast Bay Deputy Mayor Rosemary Clancy, who supports the revamp, said the council had received legal advice endorsing its actions. "We gave residents five months notice to vacate the park and also the opportunity to meet with staff to find alternative accommodation," she said. Last week, most councillors ignored the intervention of Ms Gago urging them to reconsider their stance, voted to pave the way for the termination of theresidents' leases within weeks.