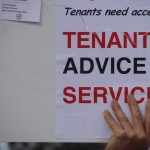 The Premier's Team thinks that tenancy advice and support 'is a luxury we can't afford'!! When did they last rent??  That's what they said on the Premier's facebook page in response to a question about de-funding.  And that the the services of TAAS are already available through the government agencies of the RTA and RentConnect (see paste below).
A luxury??  Tell that to the people who are in the tribunal trying to keep their home, or the tenants without the back steps, or the ones that come into find the agent has entered without notice. This response is out of touch.  And as for suggesting that the RTA and RentConnect provide the same services as TAAS it's simply false (we've discussed this before).
Anyway what happened to small government and front line outsourced/privatised service provision as a priority?  And as for 'resources going to those most in need' – are we using the same measure for the the $2M the government announced it would spend on advertising First Home Owner grants? Advertising!!
(reply from the Premier's Facebook Team on Friday at 10.26)
Campbell Newman Hi Amanda – We made the announcement last year that TAAS funding would be redirected to provide additional social housing for our neediest Queenslanders – nothing has changed. With 23,000 households on the waiting list for social housing, thousands of whom are either homeless or at severe risk of becoming homeless, it is important that our resources go to those most in need. Given the appalling financial position the Labor Party left us in, TAAS is a luxury we can't afford. The services provided by TAAS are already available through government agencies like the RTA and through government programs like RentConnect. – Premier's Team